Indian Army Changes Weapon Rules Along LAC
Post Violent Faceoff At Galwan Valley, Indian Army Changes Weapon Rules Along LAC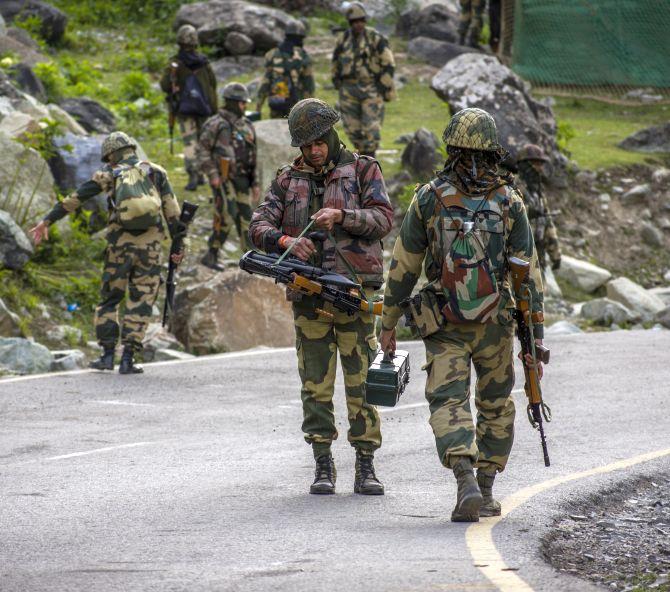 Post Violent Faceoff At Galwan Valley, Indian Army Changes Weapon Rules Along LAC
Prime Minister Narendra Modi had earlier also said the Army has been given full freedom to deal with the on-ground situation. The Army has changed rules of engagement along the LAC (Line of Actual Control) with China, empowering field commanders to sanction use of firearms under ''extraordinary'' circumstances.
Under previous rules of engagement - agreements signed in 1996 and 2005 - neither side opens fire on the other. The two countries had also agreed not to use blasting explosives or firearms within two kilometres of either side of the LAC.
At the meeting, the defence minister carried out a comprehensive review of the entire security situation in eastern Ladakh and all other sensitive areas along the Line of Actual Control in Arunachal Pradesh, Sikkim, Uttarakhand and Himachal Pradesh, the sources said.
The armed forces were told to be fully ready to give a befitting reply to any Chinese misadventure, they said adding a "tough" approach is being adopted to guard the border.
The two armies had mutually decided not to resort to use firearms during face-offs in sync with provisions of two agreements on border management.
The agreements were signed in 1996 and 2005.
Now, in latest development, the field commanders have been empowered with the liberty to use firearms under extraordinary conditions thereby changing the rules of engagement along the LAC with China.